ACSA CONVENTION
Developed for the community of craft spirits producers, the ACSA Distillers' Convention and Vendor Trade Show brings together distillers and suppliers to harness the energy of the industry. In the past years, ACSA has educated 1000s to strengthen the safety and prosperity of the trade and has provided a platform to network and explore products and services from our suppliers. See what convention is upcoming and take a peek at what you might have missed.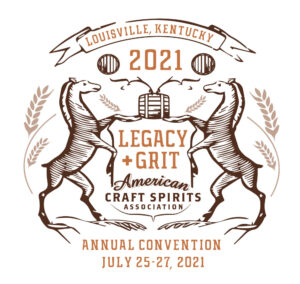 JOIN US IN LOUISVILLE
The convention you won't want to miss! Join us in Louisville for ACSA's 8th Annual Distillers' Convention & Vendor Trade Show! Registration coming soon.
When: July 25-27, 2021
Where: Kentucky International Convention Center
Host Hotel: The Galt House Hotel
Details to follow!
Convention Schedule
SUNDAY, JULY 25TH
11:00-6:00 PM ET
Registration Desk Open
12:00-2:00 PM ET
TBA
3:00-3:55 PM ET
Increasing Yield, Throughput and Quality of Production – Lallemand
TBA
TTB Overview: Recordkeeping, Operational Reports, and Tax Returns
4:00-4:55 PM ET
Enzymes to Improve Profitability – Lallemand
TBA

TTB Bootcamp: Labeling

5:00-5:55 PM ET
Fermentation Optimization to Increase Profitability and Quality – Lallemand
TBA
TTB Bootcamp: Formulas
6:00 PM ET
TBA
MONDAY, JULY 26TH
7:00 AM – 6:00 PM ET
Registration Desk Open
9:00-9:55 AM ET

The Science of Whiskey Maturation – Jason Parker (Copperworks Distilling)

Work Life Balance in the Distilling Industry – Johnny Jeffery (Bently Heritage), Mark A. Vierthaler (Tenth Ward Distilling Co.)
What to do When You Have an Unusual Product – Chris Thiemann (TTB)
10:00-10:55 AM ET
Tips and Tricks – Johnny Jeffery (Bently Heritage), John McKee (Headframe Spirits and Manufacturing), other panelists TBD
2020 Spirits Industry M&A Year in Review: Factors Driving Robust Investment Activity – Kevin O'Brien (Zepponi & Company)
Developing a Strategy to Operate your Distillery Safely – Gary Yurt (ISTS)
12:00-1:00 PM ET
Lunch
1:00-1:55 PM ET

Microbiological and Biochemical Considerations for Optimized Distillery Operations – Pat Heist (Ferm Solutions)

Panel presentation on distribution led by Karen Hoskin (Montanya Distillers)

The Fire Protection and Life Safety Challenge – Michael Reardon (Reardon Fire Consulting)

2:00-2:55 PM ET

Rye Study – Mike Swanson (Far North Spirits)

TBA
Effective Brand Marketing & Trademark Compliance – Aaron Wais/Daniel Hayes (Mitchell Silberberg & Knupp), David Bourne (Ignite Beverage Branding)

TBA
TBA
TBA
TBA
TUESDAY, JULY 27TH
7:00 AM – 5:00 PM ET
Registration Desk Open
10:00-10:55 AM ET

Making The Rounds With Gin- Where Are We Headed Next? – Gary Spedding (BDAS LLC) and panel

Enhancing Your Digital Transformation Strategy – Emily Pennington (Park Street)

TBA – Colleen Moore (Dalkita)

11:00-11:55 AM ET
TBA

Craft Spirits Data Project – Harry Kohlmann (Park Street)

Cannabis Today – Paul Hletko (FEW Spirits), Austin Stevenson (Vertosa), Adam Stites (Mirth Provisions), Ryan Malkin (Malkin Law)

3:00-3:55 PM ET
TBA –

Andrew Fratianni (DuPont) 

TBA

Living in Excess: The Business and Legal Considerations for Turning Unused Capacity into Revenue – Corey Day/Claire Mitchell (Stoel Rives, LLP), Casey Newman/Cris Steller (Steller Newman Consulting)

4:00-4:55 PM ET
TBA
TBA

A Distillery Disaster: How to be Prepared – Rob Pinson (Waller Law), Paul Steele (Martin & Zerfoss)
*Tentative schedule as of January 19, 2021
PAST ACSA CONVENTIONS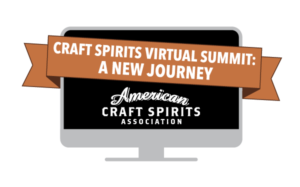 2019 Convention
Distillers' Convention & Vendor Trade Show
February 10-12, 2019
The Hyatt Regency, Minneapolis, MN
Convention Education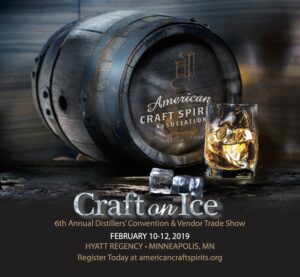 2018 Convention
Distillers Convention & Vendor Trade Show
March 5–6, 2018
Wyndham Grand Pittsburgh, Pittsburgh, PA
Convention Education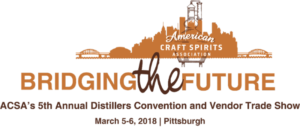 2017 Convention
Distillers Convention & Vendor Trade Show
February 16–17, 2017
Renaissance Nashville Hotel, Nashville TN
Convention Education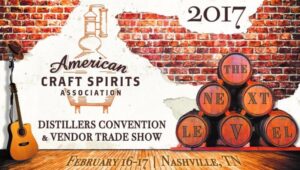 2016 Convention
Distillers Convention & Vendor Trade Show
February 29–March 2, 2016
Palmer House Hilton Hotel, Chicago, IL
Convention Education

2015 Convention
Distillers Convention & Vendor Trade Show
February 14–16, 2015
Austin, TX

2014 Convention
Distillers Convention & Vendor Trade Show
March 14, 2014
Denver, CO