Special Events
From time to time, ACSA partners with related groups to continue to elevate and advocate for the community of craft spirits producers. The Public Policy Conference allows spirits industry professionals from across the country to meet with Congress as part of the ongoing effort to ensure that the reduction in the Federal Excise Tax (FET) is made permanent. BevCon provided four distillers the chance to pour at their tasting events. The Corn Growers Association partnered with ACSA to host a Heartland Spirits Judging Competition. See who medaled in that event. Bar Convent Brooklyn offered seven distillers the opportunity to place their remarkable craft spirits on the ACSA branded bar.
2020 Public Policy Conference
In a year full of pivots, the latest was the transition to a virtual event for the annual American Craft Spirits Association (ACSA) and Distilled Spirits Council of the U.S. (DISCUS) Public Policy Conference, which took place on Sept. 15 & 16. And though the COVID-19 pandemic has made it impossible for participants to gather and meet with their U.S. Representatives and Senators in person, the online format carried one great benefit: it enabled a record number of attendees to virtually converge on the nation's capital to advocate for the industry's greatest priorities.
More than 300 craft distillers, trading partners and industry allies from 45 states spent day two of the Public Policy Conference making the case to Congress for permanent federal excise tax (FET) reform and to advocate for two other top legislative and regulatory priorities.
During nearly 200 virtual meetings with Senators and House members from both sides of the aisle, representing nearly all U.S. states, spirits producers urged support for the Craft Beverage Modernization and Tax Reform Act (CBMTRA) HR 1175 in the House and S.362 in the Senate. Additionally, attendees called for the end of trade tariffs that have been severely impacting U.S. spirits exports and asked legislators to weigh in with their concerns about a flawed proposal under review at the U.S. Department of Agriculture (USDA) and Department of Health and Human Services (HHS) to change the definition of moderate drinking for men in the U.S. Dietary Guidelines (DGA).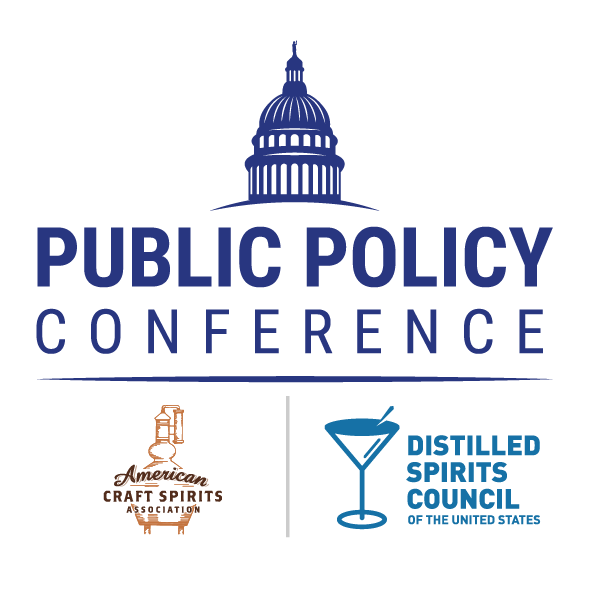 Bar Convent Brooklyn
Craft spirits producers connected with bar and restaurant owners and managers, bartenders, beverage directors and distributors at Bar Convent Brooklyn (BCB), a leading bar and beverage trade show that hosted its second appearance in the U.S. This event provided a rare opportunity for craft distillers to showcase their world-class products in front of a vast cross-section of industry decision-makers, all under one roof. ACSA member distilleries gathered at the ACSA Craft Spirits Pavilion to share their spirits and stories with attendees from across the country and around the globe.
BCB 2019
The distilleries included:
Cardinal Spirits (Bloomington, IN)
Copper & Kings (Louisville, KY)
Golden Moon Distillery (Golden, CO)
Gulch Distillers (Helena, MT)
Mad River Distillers (Warren, VT)
Pennsylvania Pure Distilleries (Glenshaw, PA)
Round Turn Distilling (Biddeford, ME)
Wiggly Bridge Distillery (York, ME)
Wigle Whiskey (Pittsburgh, PA)
BCB 2018
Appalachian Gap Distillery (Middlebury, VT) poured samples from its eclectic portfolio, including Mythic Gin, Papilio agave- and maple-syrup-based spirit, Ridgeline Barrel-Aged Whiskey and Snowfall corn, barley and rye white whiskey.
Copper & Kings American Brandy Co. (Louisville, KY) mixed cocktails with its Apple Brandy, American Brandy, Butchertown Brandy and Orange Curaçao.
Du Nord Craft Spirits (Minneapolis, MN) gave attendees a taste of Mixed Blood Blended Whiskey, Fitzgerald Gin, Apple Liqueur and Frieda Coffee Liqueur.
Hamilton Distillers (Tucson, AZ) offered at taste of Southwestern terroir in its Del Bac Dorado Mesquite-Smoked Single Malt, Del Bac Clear Mesquite Smoked Single Malt, Del Bac Classic Unsmoked Single Malt and Del Bac Distillers Cut Cask Strength Single Malt.
Maggie's Farm Rum (Pittsburgh, PA) demonstrated the versatility of the molasses-based spirit in its Spiced and Queen's Share Rums, as well as its Coffee and Falernum rum-based liqueurs.
Round Turn Distilling's (Biddeford, ME) Hemingway-inspired Bimini Gin is proof that exciting things are happening within the vibrant 

American

gin scene.
2019 Heartland Whiskey Competition
The American Craft Spirits Association, in cooperation with the Illinois Corn Marketing Board, sanctioned the Heartland Whiskey Competition to honor a grain that is all important to our industry. The competition was held at CH Distillery in Chicago, IL on June 4th.
In addition to gold, silver, and bronze medals, craft producers in one of the 13 corn-supported states competed for a "Best of State" award. This competition included state awards for: Illinois, Iowa, Indiana, Wisconsin, Minnesota, Missouri, Kansas, Kentucky, Ohio, Michigan, Colorado, North Dakota, and Texas.
BevCon
August 2018 featured this special event. Four ACSA member distilleries, who won ACSA's lottery, showcased their spirits at two exclusive events at BevCon in Los Angeles, Sunday, August 19 through Tuesday, August 21. ACSA member events include:
Onsite Bar: Sunday, August 19th 
Backwards Distilling Company (Mills, WY) poured Strongman Gin, Contortionist Gin, Milk Can Cinnamon Moonshine
Republic Restoratives (Washington, DC) poured CIVIC Vodka, Borough Bourbon, Rodham Rye, Chapmans Apple Brandy
Meet the Makers: Tuesday, August 21st
CALI Distillery (Los Angeles, CA) poured ​CALI California Sipping Whiskey, Riptide Cask Strength Rye Whiskey, Mavericks Doublewood Small Batch American Whiskey*, Sukkah Hill Spirits Etrog Liqueur, Sukkah Hill Spirits Besamim Liqueur and Mavericks Eighty Eight* (*pre-release)
Blinking Owl Distillery (Santa Ana, CA) showcased its Vodka, OC Orange Vodka, Aquavit, Gin and Old Tom Gin