Special Events
From time to time, ACSA partners with related groups to continue to elevate and advocate for the community of craft spirits producers. The Public Policy Conference allows spirits industry professionals from across the country to meet with Congress as part of the ongoing effort to ensure that the reduction in the Federal Excise Tax (FET) is made permanent. BevCon provided four distillers the chance to pour at their tasting events. The Corn Growers Association partnered with ACSA to host a Heartland Spirits Judging Competition. See who medaled in that event. Bar Convent Brooklyn offered seven distillers the opportunity to place their remarkable craft spirits on the ACSA branded bar.
2021 Public Policy Conference
Join us for the American Craft Spirits Association and the Distilled Spirits Council's Virtual Public Policy Conference on May 25-26, 2021. While we are disappointed COVID-19 prevents an in-person visit again this year, we plan to offer the same opportunities that you have come to expect from our conference – to learn and share from one another and celebrate this great industry.
As part of the conference, craft distillers and suppliers will participate in virtual congressional visits with your home state legislators to discuss the extreme hardships craft distilleries are facing due to the impacts of COVID-19.
Contact carason@americancraftspirits.org for more information.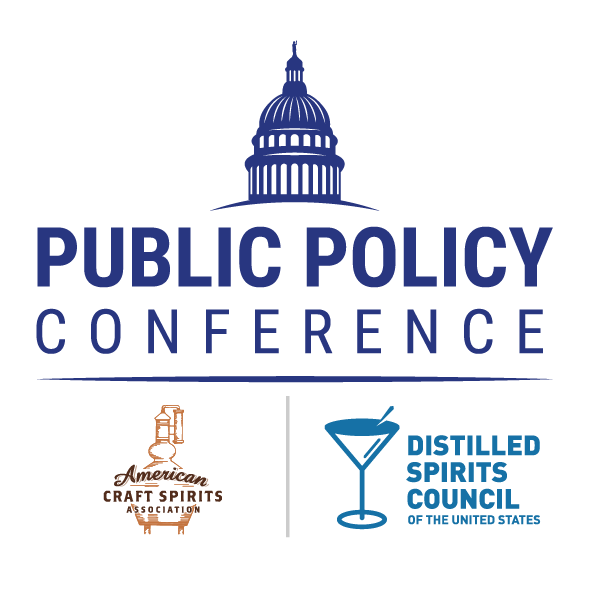 2021 Heartland Whiskey Competition
The American Craft Spirits Association, in cooperation with the Illinois Corn Marketing Board, is sanctioning the Heartland Whiskey Competition to honor a grain that is all important to our industry: CORN!
Enter your whiskey by July 14, deliver it to July 18, and earn your right to display a new gold, silver, or bronze medal. On July 23, your whiskey will be judged by top mixologists, brand ambassadors, and whiskey aficionados who recognize a good dram or two.
Even better, if you produce whiskey in one of the participating Heartland States, including, Colorado, Illinois, Indiana, Iowa, Kansas, Kentucky, Michigan, Minnesota, Missouri, Nebraska, New York, North Dakota, Ohio, Tennessee, Texas, and, Wisconsin, you could medal with a Best of State award. Maybe you'll even take the Best of Show.
Click the judging protocols and the submission guidelines for more details.
Pricing
ACSA Members: $175 per spirit
Non-Members: $195 per spirit
Sign-up as a member and receive discounts on judging entries, convention registration and more!
*Members must be logged in to access member registration link.
Bar Convent Brooklyn
Craft spirits producers connected with bar and restaurant owners and managers, bartenders, beverage directors and distributors at Bar Convent Brooklyn (BCB), a leading bar and beverage trade show that hosted its second appearance in the U.S. This event provided a rare opportunity for craft distillers to showcase their world-class products in front of a vast cross-section of industry decision-makers, all under one roof. ACSA member distilleries gathered at the ACSA Craft Spirits Pavilion to share their spirits and stories with attendees from across the country and around the globe.
BCB 2019
The distilleries included:
Cardinal Spirits (Bloomington, IN)
Copper & Kings (Louisville, KY)
Golden Moon Distillery (Golden, CO)
Gulch Distillers (Helena, MT)
Mad River Distillers (Warren, VT)
Pennsylvania Pure Distilleries (Glenshaw, PA)
Round Turn Distilling (Biddeford, ME)
Wiggly Bridge Distillery (York, ME)
Wigle Whiskey (Pittsburgh, PA)
BCB 2018
Appalachian Gap Distillery (Middlebury, VT) poured samples from its eclectic portfolio, including Mythic Gin, Papilio agave- and maple-syrup-based spirit, Ridgeline Barrel-Aged Whiskey and Snowfall corn, barley and rye white whiskey.
Copper & Kings American Brandy Co. (Louisville, KY) mixed cocktails with its Apple Brandy, American Brandy, Butchertown Brandy and Orange Curaçao.
Du Nord Craft Spirits (Minneapolis, MN) gave attendees a taste of Mixed Blood Blended Whiskey, Fitzgerald Gin, Apple Liqueur and Frieda Coffee Liqueur.
Hamilton Distillers (Tucson, AZ) offered at taste of Southwestern terroir in its Del Bac Dorado Mesquite-Smoked Single Malt, Del Bac Clear Mesquite Smoked Single Malt, Del Bac Classic Unsmoked Single Malt and Del Bac Distillers Cut Cask Strength Single Malt.
Maggie's Farm Rum (Pittsburgh, PA) demonstrated the versatility of the molasses-based spirit in its Spiced and Queen's Share Rums, as well as its Coffee and Falernum rum-based liqueurs.
Round Turn Distilling's (Biddeford, ME) Hemingway-inspired Bimini Gin is proof that exciting things are happening within the vibrant 

American

gin scene.
BevCon
August 2018 featured this special event. Four ACSA member distilleries, who won ACSA's lottery, showcased their spirits at two exclusive events at BevCon in Los Angeles, Sunday, August 19 through Tuesday, August 21. ACSA member events include:
Onsite Bar: Sunday, August 19th 
Backwards Distilling Company (Mills, WY) poured Strongman Gin, Contortionist Gin, Milk Can Cinnamon Moonshine
Republic Restoratives (Washington, DC) poured CIVIC Vodka, Borough Bourbon, Rodham Rye, Chapmans Apple Brandy
Meet the Makers: Tuesday, August 21st
CALI Distillery (Los Angeles, CA) poured ​CALI California Sipping Whiskey, Riptide Cask Strength Rye Whiskey, Mavericks Doublewood Small Batch American Whiskey*, Sukkah Hill Spirits Etrog Liqueur, Sukkah Hill Spirits Besamim Liqueur and Mavericks Eighty Eight* (*pre-release)
Blinking Owl Distillery (Santa Ana, CA) showcased its Vodka, OC Orange Vodka, Aquavit, Gin and Old Tom Gin